Weddings are one of the most memorable times of a person's life. Brides tend to save all the things used at their weddings to always cherish their wedding day. From gowns to the wedding veil, most of the items used during the wedding can be preserved properly. Wedding bouquets made out of fake flowers or other stuff can be saved too.
Source: Pixabay
But what about the wedding bouquet made from real flowers. Nowadays, many brides prefer to use real and fresh flowers for their wedding bouquet. Sometimes, the bouquets are made from one particular flower that fits the theme or a mix breed flowers fitting the theme.
Most of us are aware that fresh flowers can turn out to be expensive. Many brides who use a rare breed of flower in their wedding bouquet also end up spending a fortune. These bouquets are not just flowers but are filled with many sentimental memories from the most special day. But unfortunately, many brides end up throwing away their wedding bouquet.
If you are a bride-to-be who wants to preserve her special wedding bouquet and keep it forever, this post is for you. Here are few ways you can preserve your wedding bouquet and keep it with you forever.
1) Turn it into a Clothing
Source: With Infinite Minds
This is one of the most amazing ways you can preserve your wedding bouquet. A Brooklyn-based
artist converts the flower waste into beautiful clothing. Cara Marie Piazza helps brides save and keep their wedding bouquet forever in the form of clothing. You can further use this piece of cloth to cover your table or turn it into a dress. Natural dyeing is fun, experimental, and a beautiful and eco-friendly way to use the wedding flowers to update clothes in your closet. You can watch
DIY videos
to try this method at home.
2) Turn it into an Artwork
Source: Pinterest

You can air dry your wedding bouquet flowers or microwave and then store it in a shadow box. You can use this as decor in your house. To air dry your bouquet simply hang it upside down in a warm well-ventilated room away from direct sunlight. The flowers may dry or shrink or darken in color but will still have the vintage assemble. If you don't want to air dry it, simply microwave it. For this, you will need to microwave (on high for 2-3 mins) each flower separately in a microwave safe bowl covering the flower with cat litter. This method will be quicker as compared to air drying. There is also a method of using silica gel. Watch this video to know more ways of converting your bouquet into artwork.



3) Turn it into a Paperweight
Source: Pinterest
This is one of my favorite methods. You can create many paperweights with your wedding bouquet. These paperweights can be used at home, at the office or anywhere. If you have extra's, you can even give these as a thank you gift to your loved ones like your families, your bridesmaids, your best men, your close friends etc. If you like, you can also make coasters out of these bouquets.
4) Turn it into a Jewelry
This is another way to not only preserve your wedding bouquet but instead use it every day. Covert those flowers into jewelry. There are tons of websites on the internet that help you convert your bouquets into beautiful earrings or necklaces or bracelets made out of beads. If you want, ou can try this at home too.
5) Turn it into Potpourri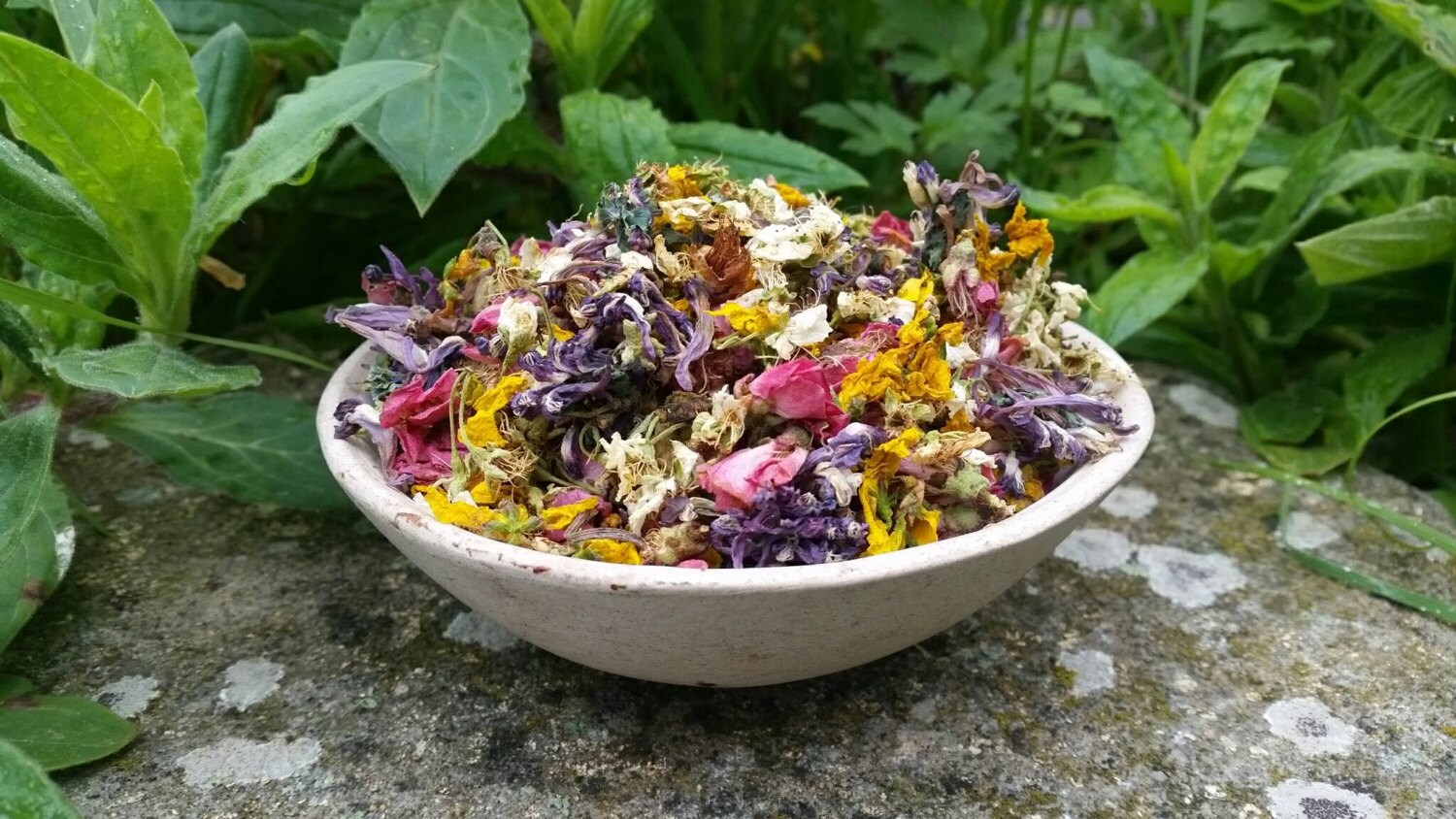 Source: The Witch Chandlery
This is maybe the most common way brides preserve their wedding bouquets. Potpourri can help you maintain a pleasant fragrance in your rooms. If you wish, you can store these petals in glass jars and keep them as decors.
If you know of any more ideas of preserving the wedding bouquets do share them in the comments section below. Also, don't forget to drop your feedback about this article.
Subscribe to my social media accounts.
Facebook
Twitter
Instagram
Youtube
Share this article with your friends and help a bride to preserve her bouquet.
Stay tuned for more amazing articles. Bye.
Turn your Wedding Bouquet into these 5 Things and Keep it Forever!
Reviewed by
Felicia
on
12:00:00 AM
Rating: